People's Commission Report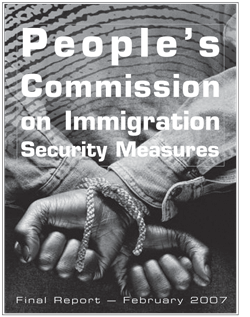 At the heart of the People's Commission are the people who came together on the project: directly affected immigrants and refugees, indigeous people, community organizers, concerned individuals, academics, community associations, non-governmental organizations – people from various parts of the political and social spectrum who helped pull sometimes unlikely allies together in the name of social justice. Needless to say, the points of views expressed are diverse and often contradictory. Even the tone and perspective of the different sections of this report, each written by different teams of writers, reflect the broad-based nature of this initiative. The People's Commission has tried to take the testimonies it received and present a snapshot reflecting the ways in which immigration security measures have affected the lives of migrants to Canada, their families and the broader community, and of how people have responded to these measures, without attempting to arrive at an overall analysis or unified perspective.
This report draws on all of the written and the verbal testimonies gathered over a three month period. The major themes that arose in the testimonies inform the structure of the report. The report is divided into four main sections:
Chapter 1, "National Security and Racial profiling";
Chapter 2, "Due process is not a lot to expect from a democracy";
Chapter 3, "Arbitrary and Indefinite Detention";
Chapter 4, "Deportation: Whose Security?"
Recommendations for policy and action can be found in Chapter 5; a bibliography of background material on immigration and national security in Canada that was used in preparing the report is included at the end.
Get the full report here.