Commissioners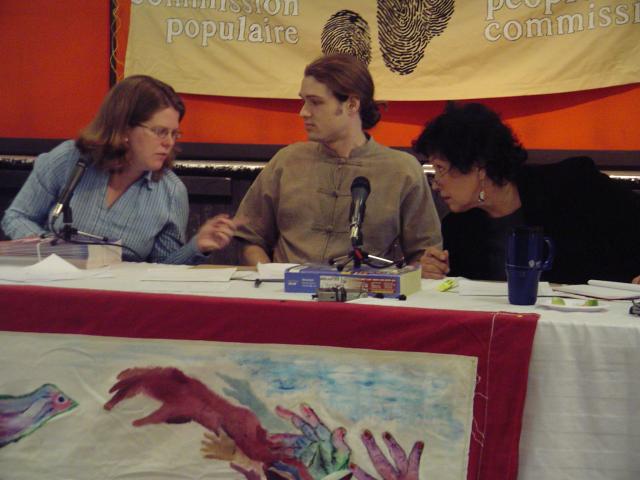 Fetya Ahmed, representing the United Muslim Students Association, is a Concordia student. She is graduating from the School of Community and Public Affairs, with an interdisciplinary training and education in public policy analysis and policy advocacy. She has worked on the issue of "National Security and Immigration" and done community outreach for the CBC.
Sarita Ahooja is an anti-racist activist and organizer with No One Is Illegal-Montreal. She has worked in solidarity with Native resistance movements in Latin America and on Turtle Island for over a decade, and supports the struggle for people's liberation and the right to self-determination.
May Chiu has been active in many community initiatives, including establishing the first legal clinic for the Chinese community in Montreal, as well as a variety of Latin American and African solidarity projects. She has practised as an immigration lawyer in Canada and taught law at the Shanxi University in China. She is currently legal counsel for CRARR (Centre de recherche-action sur les relations raciales) and is on maternity leave from her position as Executive Director of Chinese Family Services of Greater Montreal.
Salam El Menyawi is the President of the Muslim Council of Montreal (MCM). He is an outspoken advocate of human rights and against racial profiling.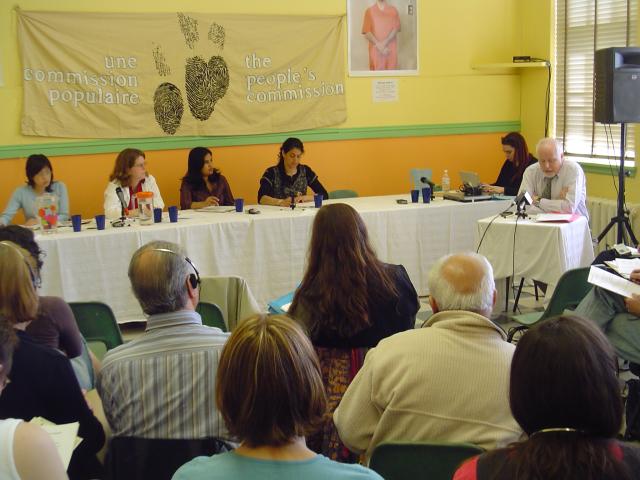 Kahentinetha Horn is a Mohawk Elder, Kahnawake of Mohawk Territory. She teaches "History of Indigenous Women" at Concordia University and is a writer on Indigenous issues and a founder of "MNN Mohawk Nation News". She is the author of several books: "Mohawk Warriors Three", "Where Eagles Dare to Soar", "The Agonizing Death of Federal Indian Law", and "Who's Sorry Now, the good, the bad and the unapologetic Mohawks of Kanehsatake". She has been an Indigenous activist for more than five decades, is a mother and grandmother and continues to work for respect for Indigenous constitutional jurisdiction of Turtle Island.
Bassam Hussein (BEng, MBA, PhD), president of the executive committee of El-Hidaya Association, member of many other community groups, presently working as a Project Manager for a telecom company, did volunteer work with: Centraide, Police Dept, Concordia University, INRS, Hema Quebec, Heritage Canada, Immigration Canada, and many other community-based groups and initiatives.
Dan Philip has been President of the Black Coalition of Quebec, an organisation which defends the rights of the black community in Quebec against racial profiling and discrimination, since the late 70's. A graduate of Political and Social Science, Mr. Dan Philip is convinced that it is through daily battle that the imperative social changes which would engender a more equitable society can take place.
Sarwat Viqar is a humanities teacher at John Abbott College, Montreal. Previously, she has worked on refugee rights and anti-deportation campaigns with Pakistanis and other South Asians in Montreal.
Jared Will is a member of the Coalition Against the Deportation of Palestinian Refugees and Solidarity Across Borders. He is currently articling at a Montreal immigration law office.
Research team
Daredjane Assathiany is a student in law and international law. Her research has included work on detention of migrants, security certificates, and "double peine". She's been involved in legal defense of activists, and has often collaborated with No one is illegal and Solidarity across Borders.
Matthew Behrens is a social justice advocate and writer from Toronto, and founder and organizer for The Campaign to Stop Secret Trials, Homes not Bombs and Toronto Action for Social Change. Matthew's writings on social justice issues, and most recently on the Secret Trial Five, have appeared in many publications and have been disseminated around the globe. He has been working directly with all three detainees in Toronto and their families for the past several years.
Dr. Janet Cleveland is a research associate at the Canada Research Chair on International Migration Law at Université de Montréal, and has been doing research on the problems faced by asylum seekers and refugees since 2003. She has a Ph.D. in clinical psychology, as well as degrees in law and anthropology. One of her current projects is developing information sessions for asylum seekers on how to prepare for the refugee determination hearing. She is also doing research on how the Immigration and Refugee Board assesses medical and psychological evidence in the case of traumatized asylum seekers.
Pierre-Louis Fortin Legris travaille à la Ligue des droits et libertés, il est aussi avocat et s'intéresse au droit international des droits de la personne, au droit constitutionnel, au droit criminel et au droit social.
Dr. Jill Hanley is a researcher on issues of precarious immigration status and access to social rights with the Université Libre de Bruxelles and the Université de Montréal. Her recent publications have focused on the Canadian government's neglect of human rights considerations in favour of security mania in the area of migration and social policy. She is also a community organiser with the Immigrant Workers' Centre.
Julia Nicol is a second year law student at McGill. Currently co-coordinator of Equity Access (a McGill law students' group), she will become Executive Director of the McGill Legal Information Clinic in May 2006.
Leila Pourtavaf is a member of No One Is Illegal Montreal. She holds an MA in Media Studies and is a Coordinator at QPIRG McGill.
Geneviève Thibodeau has an inside knowledge of the law. She has defended herself in many trials against charges related to her work for social justice. She is a former law student and a member of Libertas.
Harsha Walia is an activist and writer based in Vancouver, Coast Salish Territories. She is currently involved with No One is Illegal Vancouver, the South Asian Network for Secularism and Democracy, Vancouver Status of Women and is also involved in supporting indigenous struggles and involved in the anti-war and anti-imperialist movement. Her writings have appeared in various alternative and mainstream publications and she has also been working as a contract researcher over the past few years, including research on anti-terrorism and national security.
Indu Geita, Laura MacDonald, Kim Moss and Tamara Vukov are also part of the research team. Bios are not currently available.