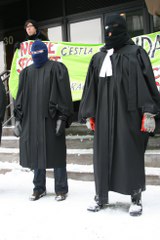 From Omar Khadr in Guantanamo Bay to Ivan Apaolaza Sancho, who was held at RDP prison in Montreal for over a year and deported on the basis of information obtained under torture, to Hassan Almrei, a security certificate victim in Ontario who was detained without charge from October 2001 to December 2009 under threat of being deported to face torture in Syria, Canadian officials are involved in torture.
This is part of a dangerous trend to deny some people their most fundamental human rights, ironically, in the name of "security" and even "civilization". Public ignorance, political exclusion and racism have allowed this to continue for far too long.
Actions in Montreal are taking place to bring into the open Canadian complicity in torture in the name of the so-called "war on terror".